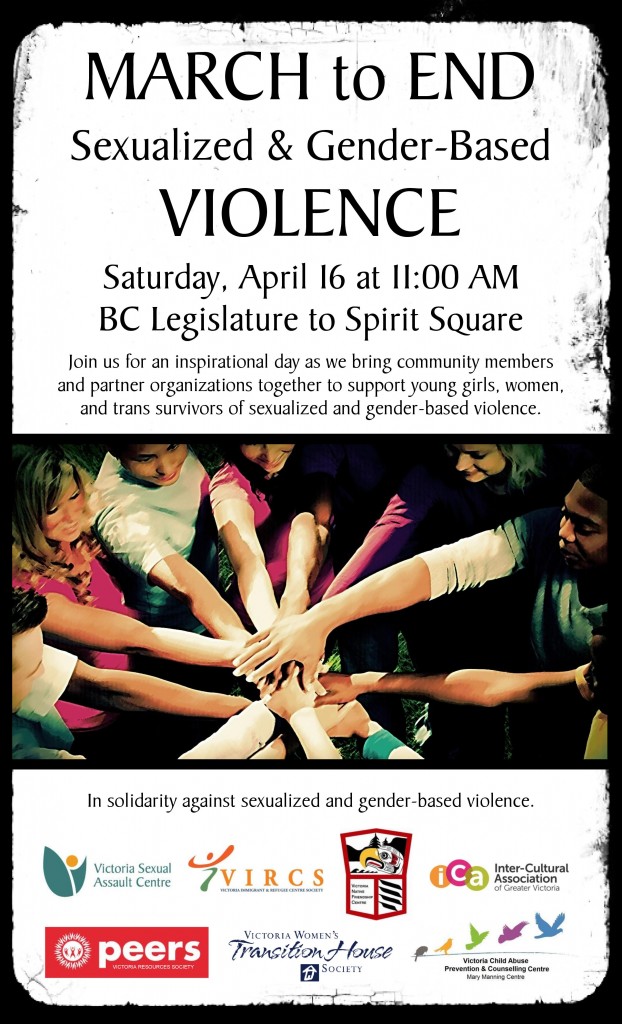 FOR IMMEDIATE RELEASE
April 13, 2016
Alliance hosts April 16 march to end sexualized gender-based violence
Join seven of Greater Victoria's front-line anti-violence organizations on Saturday, April 16 at 11 a.m. for the 'March to End Sexualized and Gender-Based Violence.'
This inspirational day will feature a march from the legislature to Spirit Square at Victoria City Hall, where speakers will raise awareness about the sexualized and gender-based violence children, youth, women and Trans survivors in Victoria experience.
"Violence affects all of us in so many destructive ways," says Alexa Robin, coordinator of the seven-agency network and the Trans inclusion coordinator at the Victoria Sexual Assault Centre. "Sexualized violence in particular is a critical issue, because it's a cultural norm embedded in gender roles and encompasses much more than sexual assault. Anyone who doesn't conform to gender stereotypes in our society is at risk of violence."
Speakers at Saturday's event include Esquimalt-Royal Roads MLA Maurine Karagianis; Acting Victoria Mayor Marianne Alto; Jeannette MacInnis, Director of Health and Ending Violence initiatives for the B.C. Association of Aboriginal Friendship Centres; Chaw-win- from Tla-o-qui-aht and Cheklesaht; and Peers Victoria board member Natasha Potvin.
Ending gender-based violence remains an elusive goal despite decades of talking about the issue. Canadian research has repeatedly found gender to be the most important factor in whether someone is at risk for sexual assault. While women represent half of all victims of violent crimes in Canada, they account for 85 per cent of sexual offences reported to police.
Figures are even more alarming for women and Trans individuals with additional barriers putting them at even more risk of discrimination and marginalization, whether due to race, disability, poverty, sex-work experience, immigrant status, unemployment, or histories as abused children. One study has found that almost 70 per cent of women sexually assaulted as children also report being sexually assaulted after the age of 16.
"Together, we can do something about disturbing statistics like these," says Alexa. "It's been heartening to see the rate of violence falling in Canada in recent years, but sexualized violence persists. We need to see it for the distinct and deeply troubling issue that it is, and put the same level of effort into ending it that we have for other forms of violence."
Everyone is welcome at the march, which will travel from the legislature to Spirit Square via Government Street. Community groups participating in the alliance hosting the march are:
Victoria Sexual Assault Centre
Victoria Intercultural Association
Victoria Native Friendship Centre
Victoria Women's Transition House
Peers Victoria Resource Society
Victoria Child Abuse Prevention and Counselling Centre
Victoria Immigrant and Refugee Centre Society
For more information, contact:
Alexa Robin
250-383-5545 ext: 114
alexar@vsac.ca
https://www.safersexwork.ca/wp-content/uploads/2020/09/peers-logo-red.svg
0
0
Jody Paterson
https://www.safersexwork.ca/wp-content/uploads/2020/09/peers-logo-red.svg
Jody Paterson
2016-04-13 10:13:07
2016-04-13 10:13:07
March on April 16 to end sexualized violence